Our Technology | INTELLISENSE
Date: 21.10.2016
Author: admin
Our IntelliSense Technology is part of our Professional Light Adjustment Range and offers the ability for our lights to be daylight harvesting, motion sensing and offer dynamic dimming. Our sensor technology can add up to 40% efficiency to LED Highbays – 40%!
This means that if you replace your Metal Halide Highbays with ZETTA LED Highbays + Sensors, you will be consuming 76% less energy overall.
Our sensors come with preset recommended settings depending on your environment, however settings can be set precisely for each specific application.
Detection Area – Can be reduced or expanded.
Hold Time – The variable period the lamp remains at 100% illumination after no motion is detected.
Stand-By Period – Refers to the time period the lamp remains at low light level before it completely switches off in the absence of movement. When set to disable, the low light is maintained until motion is detected.
Stand-By Dimming Level – The level of low light preferred in the absence of motion.
Daylight Sensor – The sensor is daylight harvesting, allowing the lamp to illuminate only in the absence of sufficient daylight, for ultimate efficiency and energy saving.
When set to disable mode, the daylight sensor will switch on the lamp when motion is detected, regardless of ambient light level.
Adds up to 76% efficiency to Highbays!
Microwave motion sensor
Hold Time 5s-30min
Wide detection area, up to 16m in diameter
Motion can be detected through plastic, glass and all thin non-metal materials
Maximum mounting height 15m
Automatic dimming
Built-in daylight harvesting capacity
IP65 rated
5-YEAR WARRANTY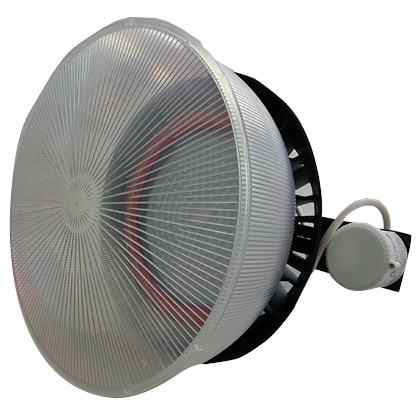 Learn more about our Professional Light Adjustment and Sentinel Technologies here