Our LED retail display light range allows you to illuminate products in-store. The range is designed for Australian retailers and these lights can be left on 24 hours a day to showcase your products without an excruciating electricity bill.
The ARRAY range is ideal for over display shelving, centre display benches or broad retail spaces.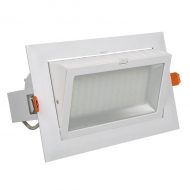 This LED Retail Display Light is a direct replacement for the energy...
Projects

Holden Special Vehicles

Client:

Holden Special Vehicles

Holden Special Vehicles in Clayton were interested in upgrading their existing fluorescent tube fittings to littil ZETTA LED Highbays. Over 500 ZETTA LED Highbays were installed, reducing their energy expenditure on lighting by 63%.

Projects

Qube Logistics

Industry:

Transport & Logistics

The situation Qube is Australia's largest integrated provider of import and export logistics services with national operations that provide a broad range of services. The Dynon Road site in Victoria was struggling with long operating hours and large electricity bills, with lighting accounting for over 30% of total energy use. Large areas of

Projects

Laser Electrical Yarraville

Client:

Erin Bull, Laser Electrical Yarraville

Industry:

Electrical Contractor

We sat down with Erin Bull, owner of Laser Electrical Yarraville to talk about why he chooses littil LED. Why do you choose littil over other LED suppliers? I have found the littil products great value and extremely competitive when compared with some of our traditional brands. One of the main reasons

Projects

Modern Baking

Industry:

Food Processing

THE SITUATION Modern Baking, based out of an 18,000m2 factory in Melbourne's Broadmeadows, employs more than 170 staff and produces Australia's much loved Unibic ANZAC biscuits. With over 900 light fittings, Modern Baking were aware that maximising lighting efficiencies would be one of the easiest ways to reduce their energy bills. With the

Projects

TNT

Industry:

Transport & Logistics

THE SITUATION TNT were interested in conducting a suite of LED lighting upgrades across 13 depots in NSW, ACT, NT, QLD and TAS. The goal of the project was to reduce electricity consumption, improve lux levels and lighting quality across depot operational areas and reduce ongoing maintenance costs. TNT required a lighting solution

Projects

Get Lost Travel Group

Client:

Get Lost Travel Group

Location:

Williamstown North

Industry:

Hospitality & Leisure

THE SITUATION Get Lost Travel Group is one of Australia's largest independent small group tour operators, carrying more than 75,000 passengers a year. Based out of a large warehouse space in Williamstown North, Get Lost Travel were interested in becoming more energy efficient and improving their green credentials. THE SOLUTION To reduce their energy

Projects

Junee Correctional Centre

THE SITUATION Junee is New South Wales' largest regional correction centre. While its primary role is to safely and securely house its 790 prisoners, it also seeks to improve their living environments where possible. Requirements to bid for the tender for the lighting retrofit of the facility included: Being certified under

Projects

Bupa Aged Care

THE SITUATION Bupa Aged Care facility in Baulkham Hills was interested in replacing their existing Metal Halide carpark lighting with energy efficient LEDs to help reduce their operating costs. THE SOLUTION Laser Plumbing and Electrical Artarmon, working with littil LED lights, designed a layout using 15 FIN 90W LED Area Lights, with a

Projects

Collingwood College

Client:

Collingwood College

Collingwood College has always had an ongoing desire to deliver an optimum learning environment for its students and the school has a strong focus on minimising its carbon footprint. With over 2,400 light fittings throughout the school, lighting was contributing significantly towards electricity bills. Almost all of the existing light fittings

Projects

Preston Market

THE SITUATION Preston Market is the fresh food and multi-cultural hub of Melbourne's North. In operation since 1970, the market is open 4 days a week and home to more than 100 vendors. In an area of the city known for it's focus on sustainability and environmentalism, Preston Market was interested

Projects

Starbucks Coffee Australia

Client:

Starbucks Coffee Australia

THE SITUATION Today, with more than 21,000 stores in 65 countries, Starbucks is the premier roaster and retailer of specialty coffee in the world. With the re-emergence of Starbucks in Australia, a change of philosophy and design was required to adapt to Australian consumer tastes. The layout and atmosphere of Starbucks

Projects

Vulcan Steel

The situation Vulcan Steel specialise in steel distribution and the processing of steel coil, late and long products. At their Sydney location, weekly operating hours are upwards of 65 hours and with over 750 metal halide and fluorescent light fittings, Vulcan were especially interested in the opportunity to improve their energy

Projects

Metcash

Metcash is Australia's leading wholesale distribution and marketing company specialising in grocery, fresh food, liquor and hardware. With lighting costs contributing to a large portion of their energy bills, the grocery giants were particularly interested in becoming more energy efficient and taking control of their energy consumption. Over 2,000 littil LED

Projects

Woolworths

When one of Australia's leading retailers decided to undertake major refurbishment works in their Sydney Headquarters, it also made the decision to upgrade to littil LED lighting. Following suit, Woolworths Mulgrave in Melbourne also made the decision to upgrade with littil. Over 400 troffer units were installed across the two facilities,

Projects

Australian Fluid Handling

Client:

Australian Fluid Handling

Australian Fluid Handling (AFH) is one of Australia's leading providers of customised and engineered compressors, pumps and skid packaged equipment. With a wide range of industrial machinery, large warehouse spaces and long operating hours, AFH were well positioned to save by upgrading to LED lighting. Over 140 littil LED lights were

Projects

Northcote High School

Client:

Northcote High School

Northcote High School provides education for 1,500 students from Years 7-12. With over 2,000 light fittings throughout the school, it was aware that a considerable amount of its energy expenditure could be attributed to lighting. The LED lighting upgrade was completed in two stages, with over 250 littil LED lights in

Projects

University of Melbourne

Client:

Melbourne University

With over 2,800 light fittings in the law building alone, the University of Melbourne was particularly well positioned to save by making the switch to littil LED lights. The installation of nearly 4,000 littil LED lights has saved the University over $31,000 per annum on their energy bills from lighting

Projects

CNP Brands

CNP Brands is one of the leading manufacturers, importers and distributors of a broad range of nursey products. With a large factory in Derrimut, VIC and long operating hours, more than 60% of CNP Brands' energy usage was on lighting. A combination of lights from the littil VIVA, ARGO and FORTIS ranges

Projects

Killester College

Client:

Killester College

THE SITUATION With a large number of light fittings throughout the school, Killester College in Springvale was aware that a considerable amount of its energy expenditure could be attributed to lighting. With this in mind, the school's Business Manager, Sandra Rotunno had a strong desire to improve the energy efficiency of